Nightcap
1 Playing Card Game
Game, set, naked. Ever wonder what your partner's kinkiest fantasy is? Or what they're really thinking when you're doing the dirty? Discussing fantasies and what you want more of in the bedroom can be difficult– whether it's your first date or you've been together for 20 years. We created Nightcap to help break the ice while pushing you and your partner places you've never been before.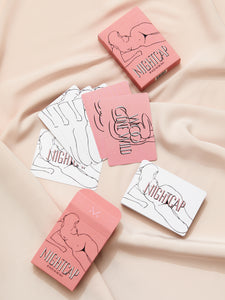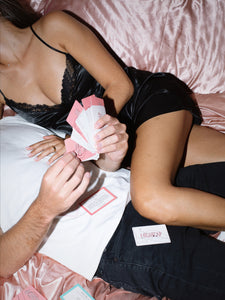 Why you should get it:
Pairs really well with your last drink of the night.
Includes wild cards that will send you on adventures you'll never forget.
Makes you want to have date night every night.
Takes away the awkwardness of having to bring up your kinkiest fantasies to your partner on your own. We just get right in front of it.
Increases your chances of getting laid tonight.
What People Having WOO Sex Say:
"We only made it through 4 cards before we started… getting busy. 10/10 WOO!"
- Charles H.
"I was nervous to tell my boyfriend what my real fantasies were… until now. Nightcap helped me open the conversation and our sex has never been better!"
- Serena Y.
"Let's just say my wife and I have never had a night like that. Ever."
- Mark C.
Top Answered Questions
Yes! We created Nightcap to fit in small bags so you can always be ready for where the game takes you. And if you play your cards right, that could be to your local strip club for a night of fun. We're serious. Nightcap players get it.
We like to think of everyone that gets their hands on Nightcap as a winner. Because every card will get you closer and closer to having the best sex you and your partner have ever had.
Can I play more than once?
Duh. The deck has 48 cards and is split up into different themes that will keep you busy for hours. If you make it through the entire deck in one evening, and you fulfill every prompt correctly, we want you to call us. Your stamina needs to be documented in the Guinness Book of World Records.