Aphrodisiac Bombs
WOO X BLENDER BOMBS LIMITED-EDITION DROP
Let's face it, the perfect ingredients for unforgettable play include anticipation and great timing. What better way to lead into the hottest sex ever than to start foreplay as soon as you wake up? Our Aphrodisiac Bombs are the ultimate way to get started extra early.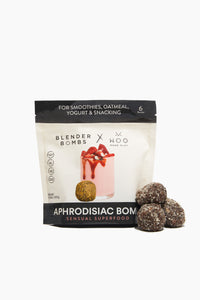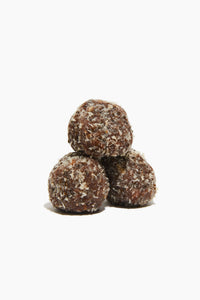 Why you should get it
The perfect addition to smoothies, yogurt bowls, or just eaten by themselves as a snack.

Packed with libido-loving ingredients like:
Maca powder Maca powder (think mood and healthy seggsual function)
Fenugreek Powder (may help boost desire)
Schisandra extract (known for its impact on blood flow *hint hint*)
Shatavari powder (did someone say balancing?!)
Horny Goat Weed powder (rumor has it, this powder may help with arousal. We'll have what you're having.)
Brazil Nut (contains selenium which can be stimulating)

Warning: Consuming Aphrodisiac Bombs might result in the cancellation of daily appointments and activities due to increased physical activity.
What People Having WOO Sex Say
"Sex for breakfast?! Never having my smoothie without an Aphrodisiac Bomb again." - Sarah Y.
"Word of advice: Eat a bomb and then take nudes. I felt the sexiest I've ever felt..." - Nora K.
"My wife loved the idea of starting foreplay as soon we woke up. Thanks WOO for inspiring us with these Bombs! " - Sam L.
Frequently Asked Questions
Q: How do I eat the Aphrodisiac Bombs?
A: The world is your oyster with our Aphrodisiac Bombs. You can drop them in your smoothie, eat them raw, or crumble them into your yogurt/oatmeal. Our smoothie recommendations are located in the free digital guide sent to you with every purchase.
Q: What are the ingredients? Are they gluten-free? Vegan?
A: The Aphrodisiac Bombs are lab-tested Gluten-Free, however, please know that they are made in a facility that contains gluten products. Unfortunately, our Bombs are not vegan as they are sweetened with a tiny bit of honey. Other ingredients include dates, almond butter, sunflower seeds, chia seeds, maple syrup, flaxseeds, coconut, coconut oil, cacao nibs, brazil nuts, chocolate chips, fenugreek seek, vinegar, maca powder, Shatavari root (Asparagus racemosus), Schisandra extract, horny goat weed, cinnamon, sea salt, and vanilla extract.
Q: Can my Aphrodisiac Bombs go bad or get moldy?
A: Yes. Because our Aphrodisiac Bombs are made with real foods, without preservatives and other chemicals (just like our Coconut Love Oil ;)), the Bombs can go bad and mold. It's important that you store the Bombs in a cool and dry location (pantry or fridge). They are best consumed within 30 days, but are shelf stable for up to 6 months!