The Get Dirty, Get Clean
1 Disco Stick, 1 Intimate Wash, 1 Love Oil, 1 Freshies
Get clean just to get dirty again with the sex care kit of your dreams. This bundle includes all of the pieces to kick your intimate routine into high gear so that you're always ready for the next round (and the round after that).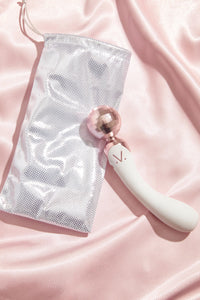 Why You Should Use It:
"Lube makes sex better," said legit every sex expert ever.
Ingredients so natural and organic you could eat them. Literally.
The Disco Stick is made with premium body-safe silicone. You have nothing to worry about but your orgasm.
Both Be There In Five wash and Freshies wipes are pH- balanced & created for your most sensitive areas
Free from sh*tty ingredients like parabens, petroleum, silicone & synthetic fragrance
How To Use It:
● Love Oil- Oil Based Lubricant:
Pour, rub, massage, finger, grind, throw, or foot for all we care. Just go enjoy the f*** out of yourself.
● Disco Stick - G Spot Vibrator:
We recommend lubing her up with Love Oil and teasing yourself to start. When you're turned on, slowly insert her with the curve facing your front walls until you find your g-spot.
● Be There In Five - Intimate Wash:
Apply our pH-balanced intimate wash to external areas only in the shower or bath, gently working into a lather and rinsing clean. The best part? Our formula is so gentle, you can use it all over your body, every time you wash.
● Freshies - Intimate Wipes:
Open and gently wipe where needed, as needed. Use before or after physical activity, like sex, yoga, long workdays, bad hair days, long trips, more sex, and all the things in between.
"Tbh I ordered this lube because I thought it looked cute, but now I'm obsessed with this formula too. WOO kills it." - Courtney K.
"LOVE this product! It smells and tastes delicious, consistency is smooth, and feels super clean after use. I highly recommend if you're looking to elevate your sex game." - Christina R.
"I LOVE how they make me feel and what they actually do for my body. I have them in every bag! If you're looking for a confidence boost before your next sex-sesh, look no further than these perfect towelettes." - Samantha C.
Top Answered Questions
A: Yes! Love Oil was consciously created with vanilla essence and a touch of stevia so it (and you) will taste amazing.
Q: Do I need Be There In Five wash if I have Freshies wipes?
A: Think of Be There In Five as Freshies' reliable stay-at-home partner. Leave her in your shower, add her into your daily hygiene routine, and then hit the road– always keeping a Freshie wipe in your bag to help keep things fresh while on the go.
Q: How do I use the Disco Stick?
A: An internal, G-spot vibrator created to make your dreams come true. Aesthetically pleasing & a showstopper, the Disco Stick is meant to be the stand-out in your toy drawer AND make you cum. We recommend lubing her up with your favorite WOO lube and teasing yourself to start. When you're turned on, slowly insert her with the curve facing your front walls until you find your g-spot.
Q: Is Disco Stick for solo play, or to use together?
A: In the disco era, three is never a crowd. Disco Stick is perfect to hit the right spot yourself, or to bring to the bedroom with your S/O. When it's your time to ride, you make the rules.