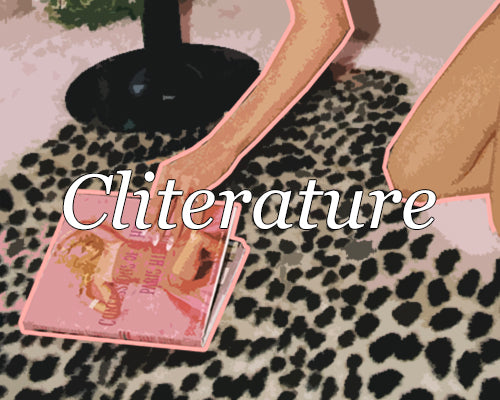 "Cliterature"
Books That Make Her Cum
"'Just touch me,' she whined, arching impatiently against his hand. He couldn't make either of them wait any longer. Slowly, he brought his middle finger down and slid it gently over her folds. Jasmine threw her head back. 'God, yes. Keep going.' He did it again, this time his fingertip slipping between and gathering her wetness. He parted her with two fingers and found her clit, rubbing it in small circles. She cried out against his lips, and was lost. The taste of her, the smell of her, the feel of her so close against him, skin to skin. Time and space had no meaning anymore. There was only her…" - You Had Me At Hola by Alexis Daria
Is anyone else wet?
Welcome to Cliterature 101.
Cliterature is all about transporting the mind, body, and soul into their most pleasurable states. While watching visual porn works for many (we recommend afterglow for the most erotic, ethical porn), erotica can provide more substance, personality, and extended build-up to get you in the mood.
What is Erotica? Erotica is classified as any kind of art that is sexually arousing yet not pornographic. While there are a lot of overlaps between erotica and porn, erotica is seen across many mediums including literature, videos, paintings, audio, and nude photographs. Today, we are focused on 'cliterature,' one of our favorite forms of erotica. Cliterature can cover everything from the first date butterflies and slow sensual sex, all the way to hardcore kinks. Trust us when we say that no matter what type of cliterature you're looking for, it exists.
Don't know where to start?
Check out a few of these WOO Recs that are guaranteed to make your panties drop.
"Four years ago, Jocelyn left her tragic past behind in the States and started over in Scotland, burying her grief, ignoring her demons, and forging ahead without attachments. Her solitary life is working well——until she moves into a new apartment on Dublin Street where she meets a man who shakes her carefully guarded world to its core." WOO's Take: Fun, flirty, and a great starting point when dipping your toe into the cliterature pond. Buy Book One HERE
"An ambitious intern. A perfectionist executive. And a whole lot of name-calling. Whip-smart, hardworking, and on her way to an MBA, Chloe Mills has only one problem: her boss, Bennett Ryan. He's exacting, blunt, inconsiderate—and completely irresistible. A Beautiful Bastard." WOO's Take: Sassy, easy to follow, and full of hot sex in public places. There is something for everyone in this series. Book 1 HERE
"An inconvenient attraction between unlikely roommates sparks a plan to overthrow a porn empire. After a bait-and-switch, Clara finds herself sharing a lease with a charming stranger. Josh might be a bit too perceptive—not to mention handsome—for comfort, but there's a good chance he and Clara could have survived sharing a summer sublet if she hadn't looked him up on the Internet…" WOO's Take: Full of unexpected twists and turns, this novel is all about HER pleasure. You won't be disappointed. Step into their world HERE
It Happened One Summer by Tessa Bailey
"A Schitt's Creek-inspired rom-com about a Hollywood "It Girl" who's cut off from her wealthy family and exiled to a small Pacific Northwest beach town... where she butts heads with a surly, sexy local who thinks she doesn't belong." WOO's Take: An easy read with a fun story guaranteed to make you fall in love. Get Reading
"Young interior designer Ava O'Shea has no idea what awaits her at the Manor. A run-of-the-mill consultation with a stodgy country gent seems likely, but what Ava finds instead is Jesse Ward--a devastatingly handsome, utterly confident, pleasure-seeking playboy who knows no boundaries. Ava doesn't want to be attracted to this man, and yet she can't control the overwhelming desire that he stirs in her."WOO's Take: Hot AF and frustrating (in all of the right ways). Fall in love HERE
So what are you waiting for? Get reading & don't forget to have your Vibez handy.