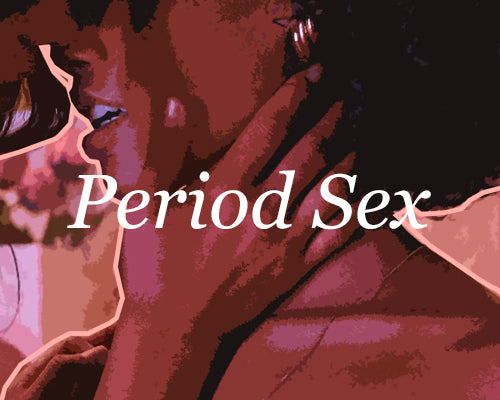 Period Sex Is Hot AF.
Yep, we said it.
Does anyone else feel extra horny during that time of the month?
When we're young, we can be pressured into believing that period sex is dirty or wrong– that a woman's downstairs area is inherently "gross" during her cycle. That could not be further from the truth (take it from these guys). Although you've probably seen examples of women being shamed for having sex during their period, in the media or from personal experience, WOO is here to help change your mind on all things period sex.
Nervous to have period sex? Don't be. As we've said before, the wetter the sex the better the sex. Aside from an increased amount of natural lubrication, women can experience higher arousal and desire while on their period (read more here).
Why? According to our fave sex expert, Dr. Emily Morse (does Sex With Emily ring a bell?), one of the most obvious benefits of period sex is increased pleasure. During your period, hormones are in overdrive, which means you might find it even easier to orgasm from touch or penetration.
Repeat the mantra: Period sex is healthy, normal, and sexy af.
Don't know where to start? Here are WOO approved reasons to have hot sex when the river runs red:
More Creativity
Period sex can help inspire creativity in the bedroom (that lasts longer than her cycle does). Try out new positions, have sex in different locations, and satisfy each other with and without penetration.
Take advantage of heightened sensitivity with extra foreplay. Focus on sensual massages and oral stimulation of other parts of the body, paying special attention to her breasts and neck.
Have sex in the shower or a warm bath. Two words: Easy Cleanup.
Experiment with sensory sex

Play with having sex on new materials including washable blankets /sheets made for play (we love these velvet sheets from The Liberator)
Blindfold your partner and drive her wild, mixing up sounds, light and hard touch, and different scents (our Hintz candle can help set the mood).
It Helps With Cramps
Having orgasms releases hormones in our bodies that can help alleviate pain. Chemicals like oxytocin, dopamine, and endorphins – the body's natural painkillers– are released during orgasm and can ease discomfort from menstrual cramps and bloating. Which leaves us wondering, what CAN'T orgasms do?
New Forms of Intimacy
Can period sex be messy? Absolutely. But it can also be unbelievably hot and bonding for you and your partner to experience. If you're nervous about staining your sheets, we recommend throwing a towel down.
WOO Tip: Always have Freshies nearby for easy post-coitus cleanup.
Increased Body Love
Having sex during your period represents the ultimate form of self-love. It says, I love my body, and all that it does for me, and I recognize that my pleasure is a priority at all times. Period shame is real for a lot of people, but for WOO Babes that's so 2001.
How to introduce period sex into your relationship
Most times the hardest part of trying new things in the bedroom isn't the activity itself, it's opening up the discussion. But having open conversations with your partner where you can both discuss needs, interests, and boundaries is only going to strengthen your bond and deepen intimacy.
WOO Tips: In general, we recommend having this conversation before the menstrual cycle begins to eliminate any pressures. Sit down with your partner and let them know that you've been thinking about trying it and ask them if they are open to it.
Men: Open the conversation by telling her how much she turns you on and how you want to deepen intimacy even further by having sex during her next cycle. You can offer options to make clean-up more comfortable (towel trick or shower, perhaps?) so she isn't worried about making a mess.
Ladies: Tell him how horny you are during your period and how you can't stop thinking about having him inside of you. You can say that a friend told you she just had the most intense orgasm of her life during period sex. Who wants to say no to that?
Resources We Love: